Well it's that time of year again, a time where you can no longer lose track
of the days and
use the restroom at your leisure. Yep, it's back to school time. While some of you may have already started back (which is completely unfair, who changed the rule to starting before Labor Day anyways?) the rest of you may only have a couple more weeks before it's back to the grind of grading papers and attending faculty meetings. To know that you are not alone in this journey, here is some humor to get you through the beginning of the school year.
1.) It helps to know what day of the week it is when you're planning lesson plans
2.) When you need to summon the skills of Tim Gunn because you put off decorating your room all summer
3.) Of course the night before your first day is the night you're awake until 2 am
4.) Trying to convince everyone around you that you're totally 100% fine 
5.) You can't contain your enthusiasm (or sarcasm) after the first faculty meeting
6.) Well, it was nice while it lasted

7.) When the administration is slacking and your organization skills suffer because of it
8.) After about you're 10th time shopping for supplies
9.) The last couple of weeks before school starts you are on a Pinterest frenzy 
10.) You become extremely grateful for your significant other who has to put with you 
11.) As soon as it hits August 1st, that dreaded feeling starts creeping in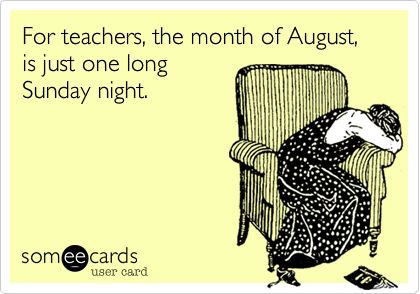 12.) As soon as school is back in session, the next countdown begins!
13.) You're convinced this is what happens to students every single summer
14.) Who needs sleep anyways?!
15.) It has to get worse before it gets better right? 16.) You can forget about actually sitting down for a meal until Thanksgiving break
17.) You could be going to bed at a normal time or you could be up all night grading papers, who knows?! 18.) And kiss your weekends goodbye
19.) But at least you don't have to speak in complete sentences all of the time!
20.) But then you realize you're actually going to crush it this year because you are awesome!
We hope this post was able to put a smile on your face as you prepare to go back to school. For another reason to smile, you can shop our Back to School Promotion and receive 10% off your next order!
*Disclaimer: We take no credit for the images above. Their original source can be found by clicking on each image.